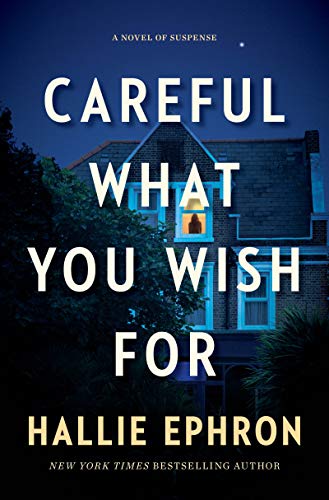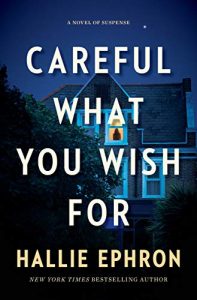 I read the book Careful What You Wish For by Hallie Ephron back in August after attending the Willamette Writers Conference. I met the author at the conference and attended two of her presentations. Hallie Ephron is a knowledgeable mystery author and had a lot of good information, so that made me want to read one of her books. Because I like audiobooks, I listened to her latest release, Careful What You Wish For. Ever since reading this book, I have wanted to write a book report/recommendation for this book.
I don't usually read a lot of books that are not fantasy or science fiction unless they are recommended to me or I know I like the author. This is definitely outside of my usual scope of reading. I love mysteries but they are often paranormal mysteries like the Dresden Files, Charlaine Harris's Sookie Stackhouse Series, or Adele Abbott's Witch P.I. cozy witch mystery series. If I do read something mainstream, it has to be really funny or have some other qualities that I find fantastic. I have enjoyed Pat Conroy's books because of the beautiful language and evocative feelings. I have very much enjoyed the humor of Carl Hiaasen's books, which I consider humorous mysteries. So that gives you a little bit of a feeling for what I like to read: books with evocative imagery or books with lots of light, fun, and funny books—not so different from what I write.
Hallie Ephron was a new author for me that I was delighted to discover. Her book was suspenseful and intriguing. Right away I could identify with so many feelings and experiences the protagonist was feeling. I did wonder if I might be more prone to identifying with this character because I also am a schoolteacher and I know many people with clutter in their lives, including myself.  On the other hand, it is also possible that the author did a good job picking a character with an identity and problem that many people have experience with and can relate to.
There were great mystery elements in this, secrets, surprises, and plenty of unexpected good twists. But the only reason that mattered is that the author made me care about the character first.
I was expecting the mystery to start on page 1, like some other books that I have read that are considered mysteries. It threw me off that the mystery started a little bit later, which was fine, because there was so much humor and interpersonal conflict from the start that it kept me reading. The author's website classifies her genre as domestic suspense, which might be a better description than the broader term mystery, because this really did feel like a domestic book with suspense as the first elements, followed by a mystery that needed to be solved. I now know I like domestic suspense!
I would highly recommend this book to others who enjoy contemporary mysteries. I would also recommend it to people who think don't like contemporary mysteries because it is different from what some people think of as a classic private detective novel.
A few months back, I saw that Jamie Lee Curtis wrote an article in Time recommending this book. Naturally, the author was thrilled. It is super exciting when an author you have met has gotten such a large endorsement from a celebrity.
To see this article or more information about the book, you can go to Hallie Ephron's website.